Safety Measures at JP Clarke's
Health & Safety Update July 2021
This week brings further changes to how restaurants can operate under Covid restrictions. We are delighted to welcome some of our customers back indoors (especially with this weeks rain!), but there are some limitations to this as follows:
Only those fully vaccinated, with a negative test or recent immunity may dine indoors
A digital cert must be presented on arrival, this can be in printed form, in an email attachment or on the app. Photo ID must also be presented alongside the digital cert.
Each group is restricted to 6 persons, with a maximum of 15 including children under 13 years of age.
Table service only and there are no time limits on tables. Masks should be worn when moving around the restaurant.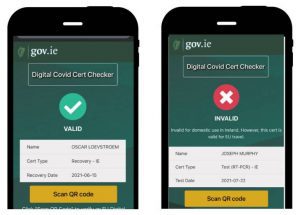 When your QR code is scanned you will see the image on the left if it is valid, along with your name. Your personal information is not stored.
While these measures are frustrating for our team and customers alike, we believe they will remain in the short term and this is a small step towards us getting back some normality! if you have questions about the new regulations or our H&S procedures in general, call us on 061 363363 during working hours and we will be happy to help.
We look forward to you joining us soon.
*
________________________________
We are all delighted to be returning to business as usual in just a few days, and we have been busy behind the scenes the last few weeks preparing for the 'new normal'.
The most important preparation is to ensure the safety of both our customers and our staff, therefore we have implemented the following measures throughout our restaurant:
We have followed all government and industry recommendations in our kitchen and public areas (as highlighted here in these Failte Ireland documents), as well as our own measures to make your visit as comfortable and enjoyable as possible.
– On arrival you will be asked to sanitise your hands, and then brought straight to your table.
– Your entire order will be taken on one occasion to minimise contact with staff and all orders will be table service only; the bar area will only be open for staff.
– No cloakroom will be available, all personal items must be kept with you.
– Each group must supply a phone number to help facilitate contact tracing in the event of a reported infection.
We have also invested in a renowned anti-viral santiser Zoono for use in our restaurant. Zoono last up to 30 days on surfaces and is proven to be effective against coronavirus in independent labatory tests.  It is currently being used throughout the UK's health service, is environmentally friendly and has food safety approval.
As always, don't hesitate to ask our staff any questions or suggestions about our new procedures and safety measures, ultimately our priority is give all our customers an excellent dining experience and some of the best food and drink the region have to offer!
Welcome back to JP Clarke's!